How to Add Personal Clips
While ClassHook's library has a plethora of clips that are easy to browse through, you may already have some favorite clips that you've bookmarked from various places on the Internet. You can store all your clips on ClassHook, regardless of their status in the ClassHook library, with Personal Clips for an easier way to manage all your teaching materials.
This article will explain what Personal Clips are, why and when you should use them, and how to create them.
What Are Personal Clips?
Personal Clips are videos found from anywhere on the internet that you can manage directly on ClassHook. You can add clips individually, upload them from your computer, or import an entire playlist from YouTube.
Personal Clips can be either private or public. You can share public Personal Clips with your students or anyone else, and they won't need a ClassHook account to view them. Personal Clips that are private can be viewed only by you.
Personal Clips are available to all ClassHook educators. Both Basic ClassHook and Premium educator can add an unlimited amount of Personal Clips. However, Basic ClassHook users are limited to directly uploading up to 3 clips to ClassHook. Learn more on our Pricing page.
Why Use Personal Clips?
Personal Clips simplify the way in which you manage the videos you've saved for your lessons. Instead of visiting different websites to show videos to your class, you can save and watch videos from multiple sources in a single place alongside your favorite ClassHook clips.
If you have a video that isn't on ClassHook, not only can you submit that video to the ClassHook library or request a clip, you can make it a Personal Clip so that it's easy to access.
How to Use Personal Clips
Like all clips in the ClassHook library, you can use discussion features like Pause Prompts and Live Discussions with Personal Clips.
Video Tutorial – How to Add Personal Clips
Step 1: Click "Add Clip"
You can access Personal Clips under My Clips > Personal Clips in the top menu. Follow these simple steps to create your own Personal Clip.
Once you have accessed your dashboard or your clips, click "Add Clip."
Step 2: Fill out the Form
Add Personal Clips Manually
Once you click "Add Clip," a form will appear asking for URL, clip title, start and end time, grade level, privacy, and description. You can also upload a clip from your computer. The only required sections are URL or video file, and clip title, but the rest helps you stay organized!
Add Clips Through YouTube
You can also search for specific clips to add directly from Youtube. At the top of the form is a second tab, press "Search on Youtube" A search bar will appear where you can enter keywords related to the video you're looking for. Once you find the clip you want press the "Add Clip" button directly under the video.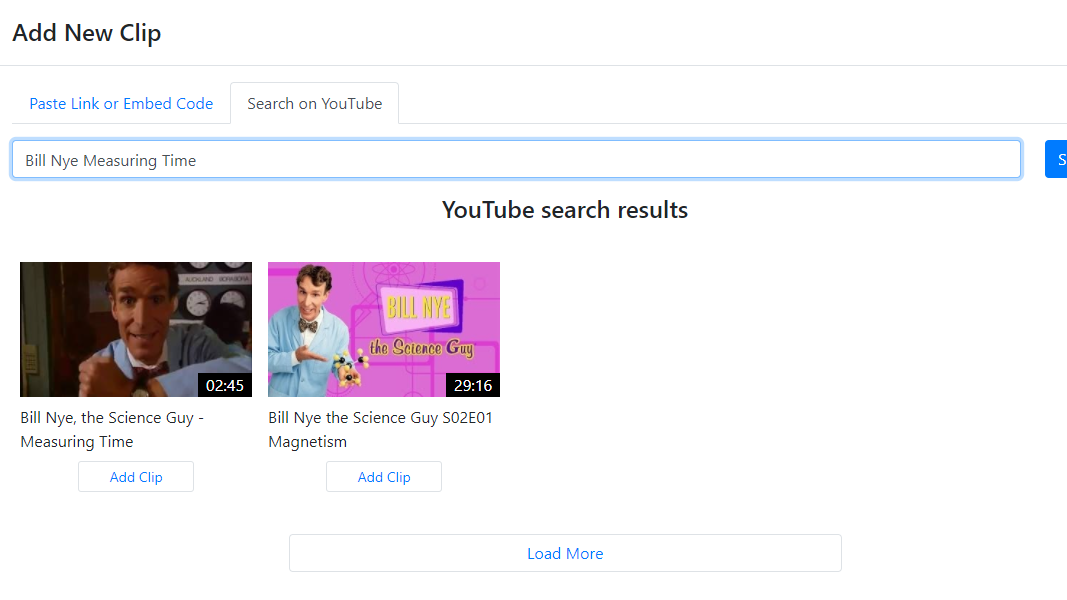 This will auto fill the URL, Start time, End time, and Clip Title sections of the form, all of which are editable.
Step 3: Click "Add New Clip"
Once your form is complete, click "Add New Clip."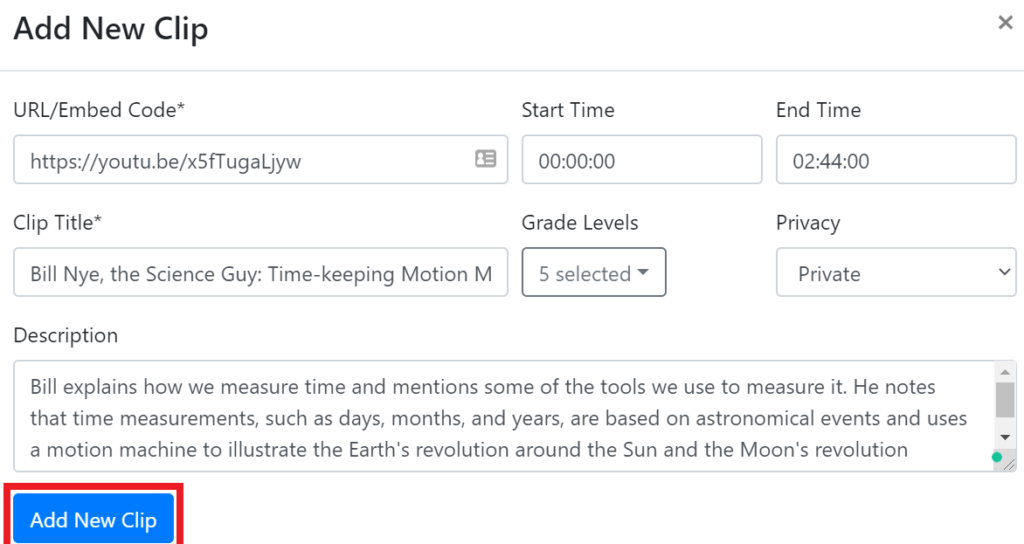 Step 4: Voila!
Congratulations! You have added a Personal Clip to ClassHook! You can now access your clip from Personal Clips.