How to Use the Vocabulary Finder
Note: This is a ClassHook Premium feature. Educators on the Basic plan will see a limited number of results.
ClassHook's Vocabulary Finder makes it easy to find videos that contain and mention the vocabulary words that you would like to define for your students.
Video Tutorial
Step 1: Click Browse > Vocabulary Finder
In the upper navigation menu, click on Browse > Vocabulary Finder.
Step 2: Search a word or phrase
On the Vocabulary Finder, type in a vocabulary word or phrase to start your search. You can optionally filter the clips that appear in the results by grade level.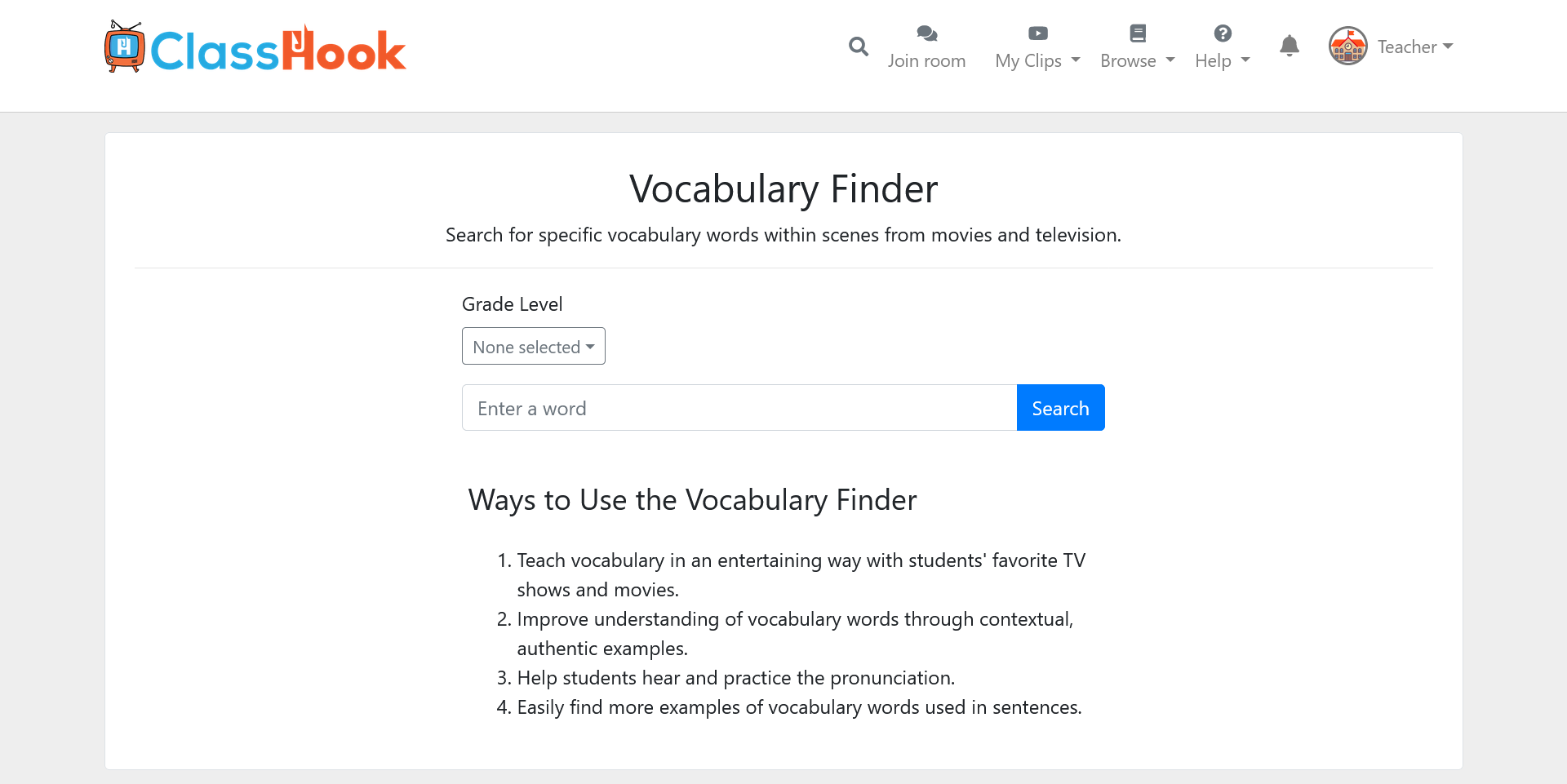 Step 3: Look through the results
Once you enter a search term, the Vocabulary Finder will find ClassHook clips containing that term and provide a set of clips for you to choose from.
Special Features of the Vocabulary Finder
Timestamp
Each video will display a timestamp of when the term is mentioned in the clip. Click on the timestamp to quickly navigate to the vocabulary word in the clip.
Character Quotes
Under each timestamp, a short quote with the vocabulary term showcases how the vocabulary is used in the clip. You can use these quotes to determine whether the clip fits the needs of your lesson. Truly a time saver!
Ways to Use Vocabulary Finder
Below are some ideas for using Vocabulary Finder with your students.
Make learning vocabulary more fun with their favorite TV shows and movies.
Support student understanding of vocabulary words, as vocabulary is used authentically and in context.
Help students hear and practice the pronunciation.
Easily find more examples of vocabulary words used in sentences – great for students that need extra examples.
Inference activities: challenge students to infer the meaning of the word based on its context