How to Embed Questions in Videos (Pause Prompts)
Pause Prompts are one of the unique features of ClassHook that helps increase student engagement, whether you're showing the video in class or assigning the clip to students for blended learning. This article will explain what Pause Prompts are, offer some suggestions on how to use Pause Prompts, and share how to create Pause Prompts (both in the ClassHook library and with your own videos).
What Are Pause Prompts?
Pause Prompts are questions that you can set to appear at different moments in the video clip. When showing or assigning clips, Pause Prompts are an easy way to make the lesson even more engaging. Pause Prompts can be added in clips in the ClassHook library or in your personal clips.
Suggestions for Using Pause Prompts
Pause Prompts can be used in a variety of ways. Take this non-exhaustive list of options as a starting place, and you can build from there!
Think-Pair-Share Activity
If you're in the classroom, the think-pair-share activity is a great and easy use for Pause Prompts. When the Pause Prompt appears, have students think about their answer to the question, then turn to their partner and share their response. The timer for the questions will help limit how long the activity will last.
Checking for Student Understanding
This use of Pause Prompts is helpful both in and out of the classroom. Your question can ask for basic comprehension (what just happened?) or for a brief explanation of why something happened. Using view responses, this is a quick and easy way to see who is paying attention or who might need some help in understanding the topic.
Giving Students Time for Writing or Reflection
This is another great use of Pause Prompts that works well in and out of the classroom. If your video deals with more abstract concepts or discussion questions, having a Pause Prompt gives students a set time to reflect on a topic that you think is important.
How to Create Pause Prompts
Video Tutorial
Creating Pause Prompts
Note: Pause Prompts can be created for any ClassHook video or Personal Clip. The process is the same.
Step 1: Find a video
Choose your favorite video from the ClassHook library to use during your lesson, either by browsing, searching our playlists, or searching.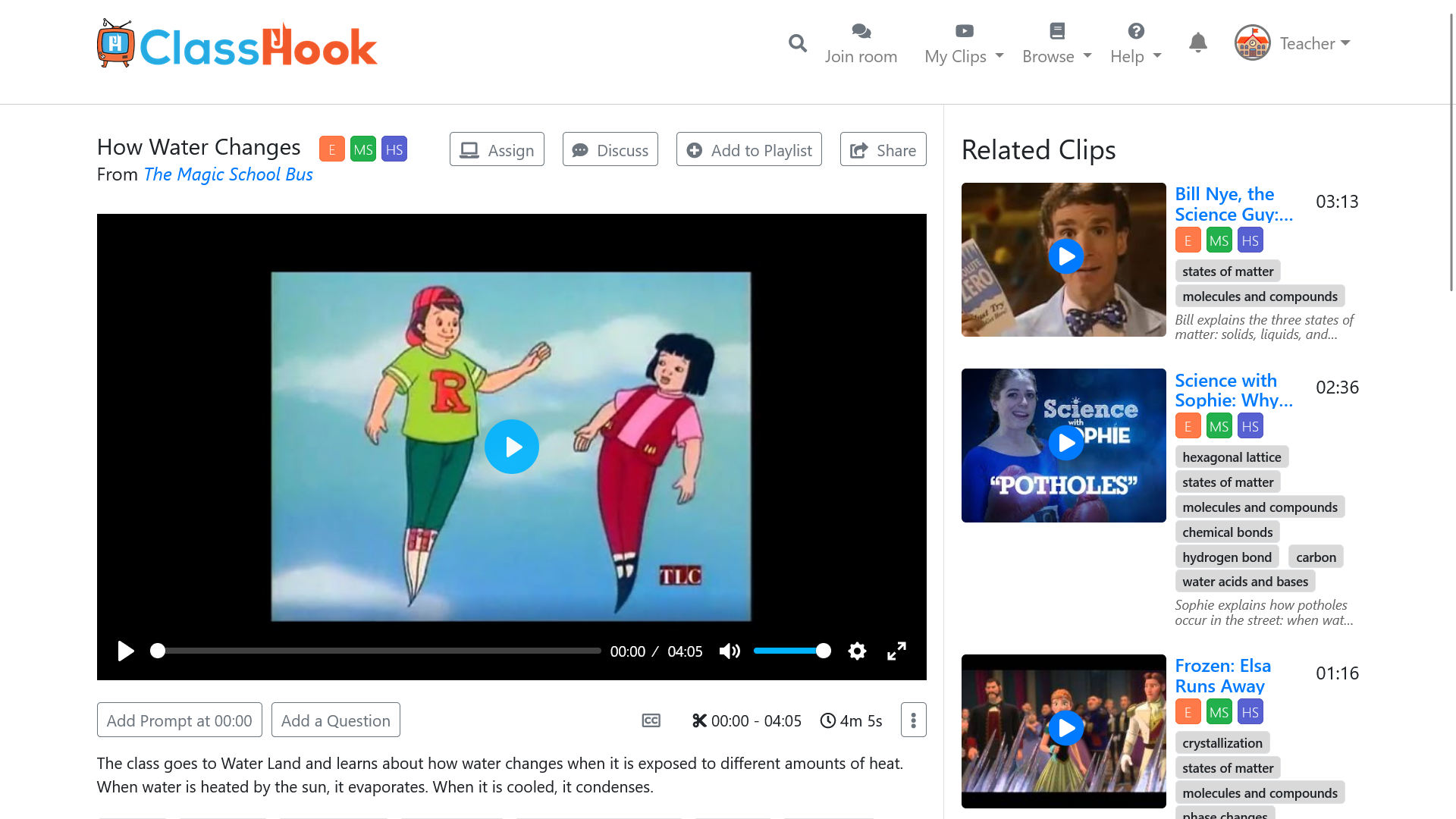 Step 2: Find the timestamp where you want to add a prompt
Click the Play button and watch the clip until you find a good moment to pause. You can click on the video player timeline to skip ahead in the video. Then click the Add Prompt at … button under the video player. The time on the button will update as you play the video.
Step 3: Write your question
Fill out the form with the question you would like to appear on screen at that timestamp. You can choose whether or not to have a timer for the prompt when it appears on screen. If so, you can choose how long it will appear for.
You can also decide whether you want your prompt to be public or private. If you select Public, your pause prompt will be available for other ClassHook teachers to use. If you select Private, only you will be able to see and access the pause prompt.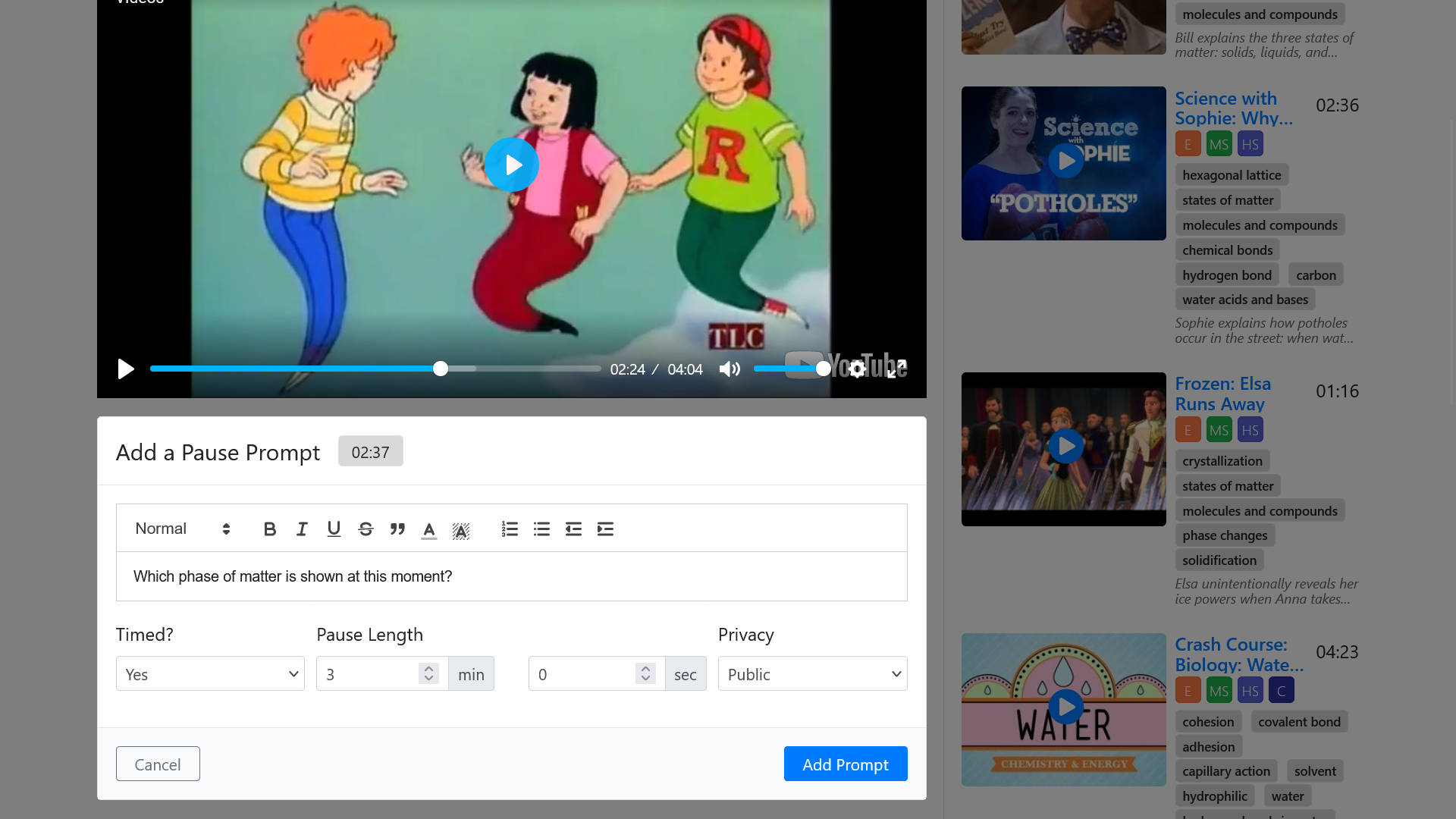 Click the Add Prompt button at the bottom to create your prompt. Your prompt will appear in the table below the video. A marker will also display on the video showing the timestamp where the Pause Prompt will appear.
And it's as simple as that! Educators on the Basic plan can create one pause prompt per clip, while educators on the Premium plan can create unlimited pause prompts.